Bathtub Refinishing Tinley Park IL
We the experts in bathroom refinishing in Tinley Park. We have many years of experience in the local area and have established ourselves among the leading bathroom refinishing companies in Tinley Park. Our success and capacity for expansion comes from our long list of satisfied customers and their word-of-mouth recommendations.
Our priority is to help customers save money through the process of shower tile refinishing and bathtub reglazing which allow for a new looking bathroom at a fraction of the cost. We have assisted hundreds of residents in Tinley Park to finally get the bathroom that they had envisioned without needing to pay a leg or arm for it or break the bank.
Renovating your bathroom by removing the existing shower tiles, bath, and other porcelain/ceramic surfaces can prove to be extremely labor-intensive and not to mention costly. Our alternative involves using state-of-the-art equipment and precision techniques to re-paint, re-glaze, and re-finish your existing surfaces to your exact specifications.
So, regardless of what you need, be it fiberglass tub refinishing, cast iron tub refinishing or even shower tile resurfacing, we are here to meet your needs.
Our specialized bathtub refinishing services have been developed to breathe a new life into your bathroom without the monumental investment of remodeling. We use our expertise as well as state-of-the-art solutions and tools to modernize your dated bathroom, to make it feel chic and contemporary even though it is made out of old materials.
be sure to examine out bathtub refinishing and reglazing services as well as our incredible tile and shower refinishing services. Next time you are looking for 'tub refinishing near me', consider checking us out and have a look at our gleaming portfolio of remodeled bathroom projects we've done.
Bathtub Reglazing and Tub Refinishing Tinley Park IL
We use a wide range of experience, expertise, and industry-leading solutions and tools to assist you with refinishing and reglazing your bathtub to give new life to your dated-looking and old bathtub. For instance, we know how costly cast iron tubs are, so we provide cast iron tub refinishing services if you're looking to bring an old-looking cast iron tub into the modern age with style.
We provide the same services for your trusty fiberglass tubs as well, effectively increasing beauty and longevity. Not only will you be saving a considerable amount of money throughout this project, but you are also doing your part in helping the environment by reusing what you already have. More and more homeowners in Tinley Park are realizing the benefits of bathtub restoration.
Whether your bathtub is faded, painted a color you can't stomach or chipped, our team has the skills and tools needed to address all these issues. We will take the time to repair and clean the bathtub before fully glazing and creating a new look. Stuck with an old, chipped, blue tub that you dislike? That's not an issue. tub in no more than a day.
Shower and Tile Refinishing Tinley Park IL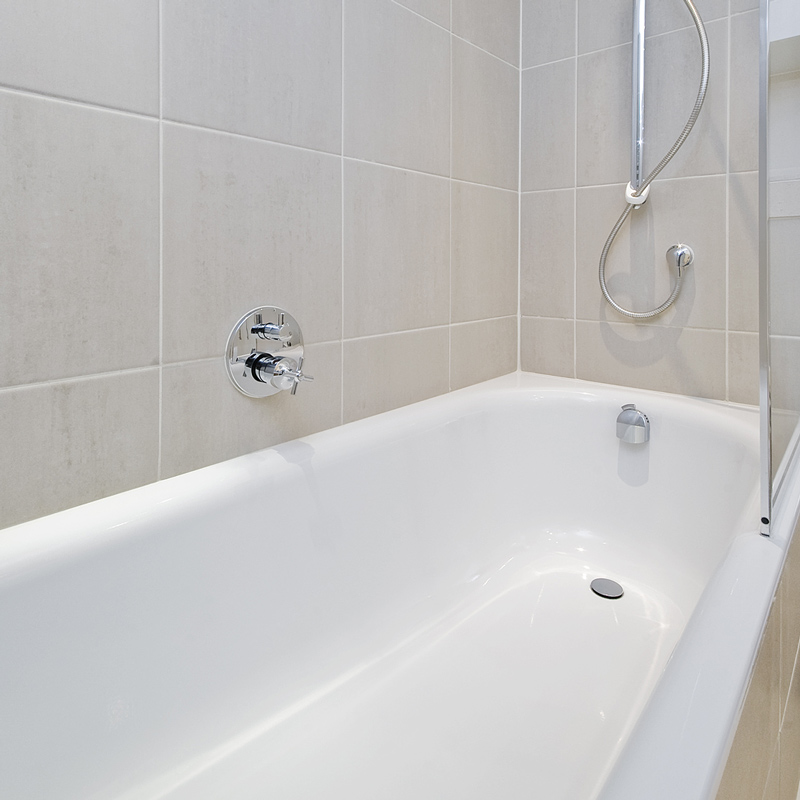 Shower tiles and showers are ideal places for mildew and mold, which means that over time they can easily become discolored, dirty, and grotty. Additionally, when you live in an older house, the bathroom is typically the first to show its age with old color schemes not in style. Our team is here to help you.
We offer tile refinishing and shower services that rejuvenate your neglected tiles and shower, cleaning the grout and repainting/re-polishing the tiles to make them appear new. Our company utilizes tools specifically designed for the job, meaning you'll have a shower and tiles that look like new in no time.
Our tile refinishing and shower services are designed to help area Tinley Park residents to enjoy a brand new shower without having to spend much time or money. Tile and shower restoration projects are efficient, cheap, fast, and assist in reducing the impact on the environment. What are you waiting for? To learn more call us today.
How Long Does the Refinish Last?
With regard to bathtub reglazing, it's just a matter of preparation. First, we use special products and tools to repair and thoroughly clean the existing bath tub, ensuring that any dirt or soap scum is removed and any chips or cracks in the tub are repaired before proceeding to the next phase.
There will be some tubs which we use sandpaper to create an easier finish that will allow the paint to latch onto it. Other tubs require the same effects but with a different treatment. We use acid products to prepare the surface of a porcelain tub. Preparation is an essential element of the process and each tub will need a different prep process. Any area that we are not resurfacing, we will make sure to cover it with masking tape or another protective material.
The next phase involves reglazing or repainting the tub using top of the line products. We are meticulous with our efforts and ensure that these products are only applied where they are needed. We also have methods of controlling fumes and dust products generated by our work. We use proper ventilation systems to ensure all of the paint fumes are removed from the bathroom quickly to keep the amount of downtime to a minimum.
Tinley Park Bathtub Resurfacing Process
When properly applied, a refinishing job can last for a very long time. This enduring quality can be enhanced by following the right cleaning methods and using the proper products. If you take care of your new bathroom properly, you can expect the renovated surface to remain intact for at least 10 to 15 years. You should keep in mind that while the surfaces may look new, the materials under them are older than they seem, so ensure that you've taken good care of them once the project is complete.
Do you live in Tinley Park and are searching for bathtub re-enameling businesses near you? Call us today at (773) 466-6747 on send us a quick e-mail and talk to us about the many options you have available to make your bathroom look like new through the efforts of bathtub reglazing and refinishing from the best in the Tinley Park area.