Bathtub Refinishing Des Plaines IL
We are a company that specializes in bathtub refinishing. We have been in the industry for years, and have worked on dozens of bathroom refinishing projects. We have been in this industry for a while now and have the experience as well as the track record to prove it. We have done dozens of refinishing projects over the years and have established a foothold as the leading bathtub refinishing company in the region. Our massive growth to the top results of word-of-mouth recommendations that our happy customers make to their family members and friends.
We help our customers save money with our shower tile refinishing and bathtub reglazing services, which means your bathroom can be renovated without having to spend excessive amounts of money on your remodeling project. That means we have assisted hundreds of residents in Des Plaines to get their dream bathroom without needing to pay a fortune for it.
A conventional bathroom remodeling project entails removing the existing tiles and other surfaces, which tends to be labor-intensive and costly. What we do instead is use special techniques and tools to clean your existing surfaces thoroughly and re-finish or re-paint them according to your personal preferences.
So, regardless of what you need, be it fiberglass tub refinishing, cast iron tub refinishing or even shower tile resurfacing, we are here to meet your needs.
Our expert bathtub refinishing service is structured to breathe new life in your bathtub or shower without costing you a ton of money. We leverage state of the art solutions, experts and tools to transform your bathroom, lending it a modern look and making it feel contemporary, despite the vintage materials.
Review our bathtub refinishing and reglazing services listed below in addition to our tile and shower refinishing services. If you have been searching for "the best tub refinishing near me", just take a moment to look over the impressive results we can achieve at a very competitive price.
Bathtub Reglazing and Tub Refinishing Des Plaines IL
We have a wide range of top-of-the-line equipment to apply to your reglazing or refinishing projects, coupled with our extensive experience and specialized techniques, our quality tools transform the most antiquated old tub into something new and amazing. For instance, we know how costly cast iron tubs are, so we provide cast iron tub refinishing services if you're looking to bring an old-looking cast iron tub into the modern age with style.
Ideally, we refinish fiberglass bathtubs, thus helping you increase the lifespan of that tub you've come to love. That will save you money, and maximize its value, while also helping the environment by not needing additional materials for your remodeling project. An increasing number of individuals are becoming aware of all the benefits that bathtub restoration can provide them with.
Whether your old bathtub is painted a shade you don't like or is faded or chipped - we have the experience and tools to repair all of those issues. We will thoroughly repair and clean any chips your bathtub has, and entirely change its color and glazing. Do you feel stuck with an old powder blue chipped bathtub that you can't stand? We have a solution! tub in no more than a day.
Shower and Tile Refinishing Des Plaines IL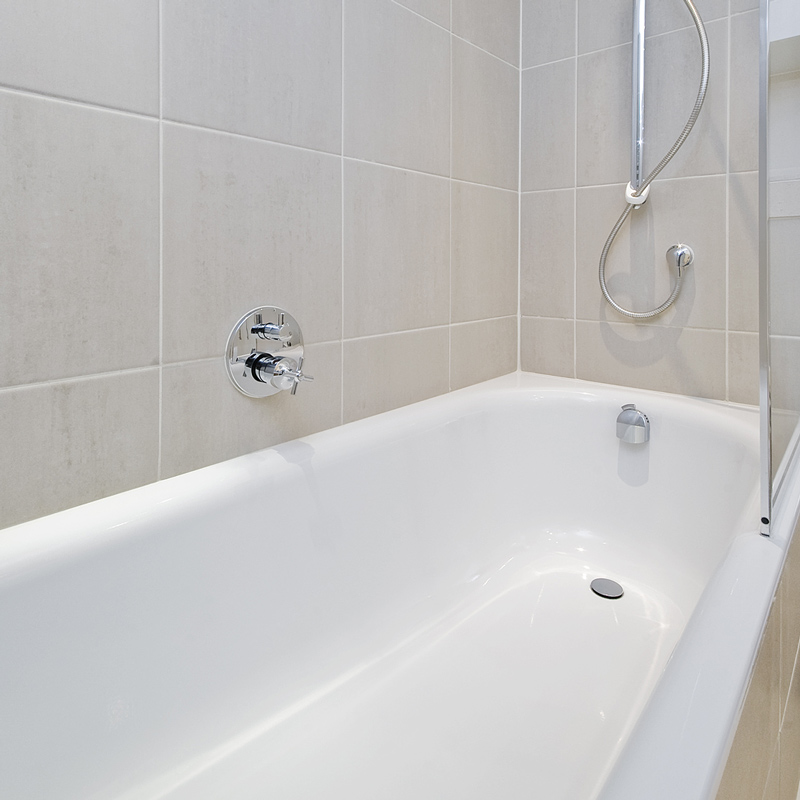 Shower tiles and showers are ideal places for mildew and mold, which means that over time they can easily become discolored, dirty, and grotty. If your bathroom has been in use for decades, chances are elements like the shower are dated and you have awkward color schemes not to mention aging tiles. This is where our expert team comes into play.
We offer tile refinishing and shower services that rejuvenate your neglected tiles and shower, cleaning the grout and repainting/re-polishing the tiles to make them appear new. We use a number of tools that help speed up the overall refurbishing process, meaning you can have a brand new bathroom usually the same day.
Our superior shower and tile refinishing services give home and property owners in Des Plaines a cost-effective option to enjoy a brand new bathroom. That is why we are fast, efficient, affordable, and help reduce your impact on the environment. So what are you waiting for? Reach out to us now to get additional information.
How Long Does the Refinish Last?
Bathtub reglazing is a process whose final results depend on the preparation. We will use a number of specialized tools to repair and clean the area, ensuring all dirt and scum is thoroughly removed and any cracks have been removed before we move onto the next phase of the process.
We use sandpaper on some bathtubs to roughen the surfaces up so that the paints or finishing that we use will have something to adhere to. On tubs like porcelain tubs, we use acidic products to help in etching the surface to attain a similar effect. The preparation process is crucial and varies depending on the bathtub material at hand. Any area that we are not resurfacing, we will make sure to cover it with masking tape or another protective material.
We will then reglaze or repaint the tub using long-lasting high-quality products. We always take special precautions to ensure that when we are spraying paint that it stays in the right place and does not create a lot of dust particles or fumes. We will bring in our specialized ventilation systems to pull fumes from the bathroom. This ensures your bathroom will be ready for use as fast as possible.
Des Plaines Bathtub Resurfacing Process
When properly applied, a refinishing job can last for a very long time. This enduring quality can be enhanced by following the right cleaning methods and using the proper products. With proper care after refinishing or reglazing, the bathtub and shower surfaces can last for an extra 10 to 15 years. Keep in mind that while the surface area is new, the materials underneath are old and will need to be properly maintained to ensure the ultimate in longevity.
Do you reside in Des Plaines and are searching for bathtub re-enaming service providers near you? Call us today at (773) 466-6747 to learn more about what our bathroom refinishing services can do for your home.