If you are looking for a bathtub refinishing Chicago specialist to come to your home and restore your tub, you have come to the right place.
Whether your bathtub is damaged, warn out, difficult to clean, or simply not the color of your choice, refinishing your bathtub can be a low cost bathroom renovation alternative to replacing your tub or shower.
Whatever the situation, call the experts at Bathtub Refinishing Pros to restore your bathtub surface to a brand new look and feel. We can save you thousands of dollars in demolition mess and costly replacement procedures that could take weeks or even months to complete.
In fact, an average cost to remove and replace a bathtub is approx. $3100 or more, according to the National Kitchen and Bath Association (NKBA). Our bathtub refinishing process will cost just a small fraction of that amount!
Bathtub Refinishing Pros can fix these problems:
Outdated colors & finish
Lack of time and budget for renovation
Bathtub stains and discoloration
Unsightly damage, chips, or cracks
Dark & moldy grout lines
Cracked and leaking fiberglass
Germ collecting tile cracks and laminate seams
Cracked or leaking shower pans
We are a bathtub refinishing company based in Chicago IL.  With several years of experience and hundreds of bathroom refinishing projects under our belts, we have established ourselves as one of the top bathtub resurfacing companies in the region, experiencing significant growth due to our 5-star, word-of-mouth recommendations from satisfied customers.
We help our clients to save money with our bathtub reglazing and shower tile refinishing services, meaning that you can renovate your bathroom without spending excessive amounts of money on a remodel. This way, we have helped hundreds of Chicagoland residents to get the bathroom of their dreams without paying an arm and a leg for it.
You see, remodeling your bathroom by ripping out the existing bath tub, shower tiles, and other ceramic or porcelain surfaces can be incredibly expensive and labor-intensive. Instead, we use special tools and techniques to thoroughly clean your existing surfaces and re-paint or re-finish them to your preferences.
So whether you need cast iron tub refinishing, fiberglass tub refinishing, shower tile resurfacing, sink refinishing or anything in between, we here to help.
Our bathtub refinishing services are designed to breathe new life into your shower-bathtub combo without costing you piles of money to do so. We use state-of-the-art industry tools, solutions, and expertise to take your dated bathroom and modernize it, making it feel contemporary and chic despite being made from vintage materials.
Check out our bathtub re-facing and refinishing services below, as well as our sink, shower and tile refinishing services. Next time you're searching for "tub refinishing near me", be sure to check us out and take a look at our dazzling portfolio of transformed bathroom projects.
Bathtub Refinishing and Reglazing
We use a selection of industry-leading tools, solutions, expertise, and experience to help you refinish and reglaze your bathtub, breathing new life into an old and dated-looking tub. For example, we understand how expensive cast iron tubs can be, so we offer cast iron tub refinishing services if you want to bring a dated cast iron tub into the 21st century with style.
Similarly, we also perform fiberglass bathtub refinishing projects, helping you to increase the lifespan of your trusty fiberglass tub. This way, you can save money, get the most bang for your buck, and do your part to help the environment by not creating demand for additional materials unnecessarily. More and more people are realizing what bathtub restoration can do for them.
It doesn't matter if your old bathtub is chipped, faded, or painted a color that you don't like – we have the tools and experience to fix all of these problems. We can thoroughly clean and repair any chips in your bathtub, as well as change its glazing and color entirely. Stuck with a chipped old powder blue bathtub that you hate? No problem. We can transform it into a flawless shining white bathtub in just a few hours.
Shower and Tile Refinishing
Showers and shower tiles are a haven for mold and mildew, so it's easy for them to become grotty, dirty, and discolored over time. What's more, if your bathroom is a few decades old, chances are that your shower is dated, with bygone color schemes and aging tiles which are in great need of some TLC. That's where our company can help.
We provide shower and tile refinishing services which restore life to your neglected shower and tiles, cleaning the grout and redo/repainting the tiles so that they look as good as new. Our team uses purpose-built tools which speed up the refinishing process, meaning you could have a shower that looks brand new in no time at all.
Our shower and tile refinishing services help Chicago residents to enjoy their rejuvenated showers every day without having to spend much on it. Shower and tile restoration projects are fast, cheap, efficient, and help to reduce our impact on the environment. So what is there to think about? Call us today to find out more.
Bathtub Resurfacing Process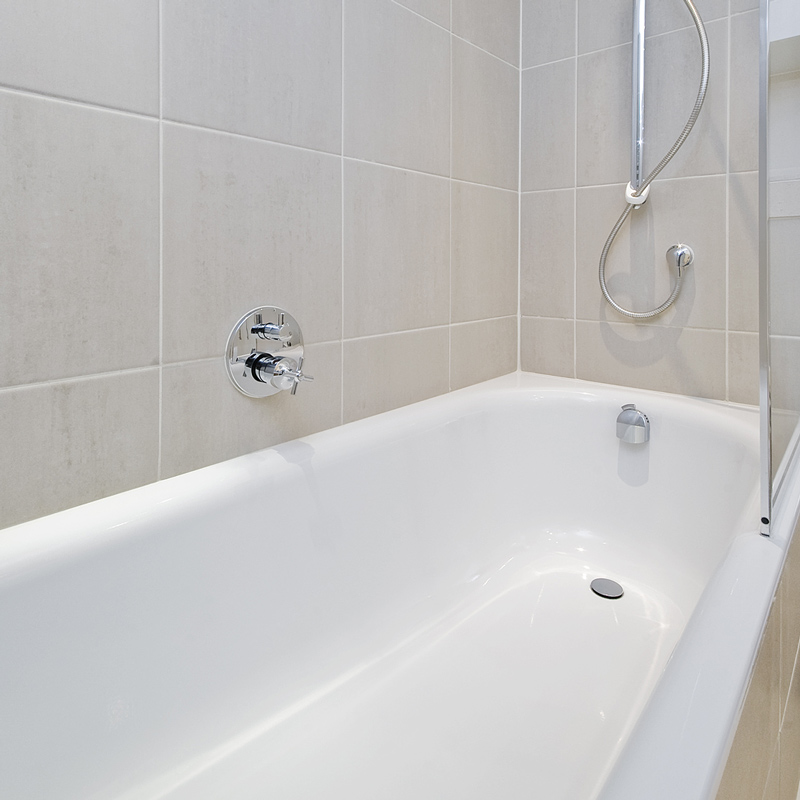 When it comes to bathtub reglazing, it's all about the preparation. First of all, we use special tools and products to thoroughly clean and repair the existing bath tub, making sure that any soap scum or dirt is removed and any cracks or chips in the tub are repaired before moving on to the next phase.
On some bathtubs, we use special chemicals to roughen up the surfaces so that the finishing/coating or paints we use have something to bond with.  On other tubs, such as porcelain tubs, we may use acid based products to etch the surface for a similar effect. The preparation process is key and differs depending on the material of the bathtub at hand. If an area is not being resurfaced, we ensure that it is covered with masking tape and other similar protective materials.
Next, we repaint or reglaze the bath tub using the highest-quality long-lasting products. We take very special precautions to make sure that our glaze spraying stays localized to the correct area and doesn't create too many fumes or dust particles in the air. We carefully use ventilation systems to ensure that any fumes are extracted from your bathroom quickly, keeping its downtime to a minimum.
How Long Does the Refinish Last?
A refinish can last for many years, providing that you take proper care of the bathtub and clean it regularly with the recommended products. If you take care of your bathroom once it has undergone bathtub re-enameling or shower refinishing, the renovated surfaces can last for an additional 10-15 years. You must remember that although the surfaces look new, the materials beneath them are older than they appear, so be sure to take good care of them following project completion.
Call Us Today For Your Free Quote
Are you a Chicagoland resident who's looking for bathtub refinishing companies near you? Get in touch with us today at (773) 466-6747 or shoot us an email to find out more about our bath tub reglazing and refinishing services.
The technicians came out and restored our tub & tile surround to perfection. They were professional, friendly, and answered every question that I asked them. I normally don't write reviews, but I really feel that everyone should know about this company. Highly recommend.
Susan K.
Our master bathroom needed some major upgrading, and these guys did an awesome job with restoring our jacuzzi tub & vanity. Everything looks brand new, and we couldn't be happier. 5 stars for sure!
Jose M.
We needed to repair our old, stinky tub, and these guys were highly recommended by our neighbor. Glad we called the Tub Pros, cause we did not know that a bathtub could be reconditioned to look brand new. They did a perfect job for a very reasonable price.
John & Mady L.
All the contractors we contacted quoted twice the cost that the bathtub pros quoted. Call these guys, you will be amazed at how your bathtub looks after they reglaze it.
Belinda O.
I was in the process of renovating my bathroom, and my contractor recommended the tub team for a cost effective solution (instead of replacing my bathtub). Refinishing is waaaaay cheaper and much faster to complete. I have nothing but good things to say about this company.
Sandra Z.
They restored our kitchen countertop and shower pan. In a nutshell...great job by a superb company!
Bill V.
Chicago Tub Pros resurfaced our master bathroom tub within 2 hours, and we could not be happier! They were very informative and helpful with color selection to best match the motif. From what I have experienced, they are a very professional company with high standards for the work that they do.
Melinda A.
Our garden tub needed some major updating due to a couple of cracks and discoloration. So we looked around and found the Tub Pros. They came on time, and finished repairing our bathtub ahead of schedule. They also left our bathroom cleaner than when they came, so that's a plus!
Janine D.
Our Service areas include but not limited to:
Chicago, Aurora, Elgin, Gary, Palatine, Oak Lawn, Schaumburg, Hammond, Carol Stream, Joliet, Evanston, Bedford Park, Naperville, Melrose Park, Hoffman Estates, Oak Park, Des Plaines, Plainfield, Tinley Park, Oak Brook, Bensenville, Shorewood, Downers Grove, Arlington Heights, Hinsdale, Elk Grove Village, Lincolnwood, Markham, Maywood, Homewood, Skokie, Lockport, Harvey, West Chicago, Glenview, Northbrook, Bartlett, Wood Dale, Saint Charles, Chicago Heights, Bolingbrook, Glendale Heights, Wheaton, Schiller Park, Bloomingdale, Hillside, Glen Ellyn, Harwood Heights, Orland Park, River Forest, Lemont, Wheeling, Wheeler, Whiting, Glencoe, Alsip, Justice, Mount Prospect, Forest Park, Hometown, Willow Springs, Clarendon Hills, Romeoville, Summit Argo, La Grange Park, Berwyn, South Holland, Woodridge, Matteson, Hickory Hills, Bridgeview, Riverside, Glenwood, Waukegan, Cicero,Park Ridge, Techny, Oak Forest, Western Springs, Riverdale, Stone Park, Westmont, Prospect Heights, Hanover Park, Morton Grove, Addison, La Grange, Crest Hill, Willowbrook, Blue Island, Dolton, Park Forest, Winnetka, Lombard, Elmwood Park, Palos Hills, Warrenville, Chicago Ridge, Palatine, Palos Heights, Kenilworth, Mount Prospect, Flossmoor, Lisle, Homer Glen, Midlothian, Robbins
Chicago Tub Pros Refinishing
318 W Adams St
Chicago IL 60606